21st-century platforms such as Instagram have made it easier than ever before for businesses to exercise direct-to-consumer advertising. With each swipe through the app's algorithm, countless influencers and advertisers benefit from eyes on their products. But before technology made this kind of advertising practically omnipresent, brands relied on more traditional methods—such as product placement. In 1990, when Will Smith's vibrant comedy (and wardrobe) appeared in living rooms across the country during the first season of The Fresh Prince of Bel-Air, the Los Angeles-based clothing brand worn by the lead actor was catapulted to stardom. Cross Colours, founded by designers Carl Jones and T.J. Walker just the year before, became an instant commercial success.
In celebration of the pioneering apparel line and its enduring legacy, the California African American Museum has mounted an exhibit that chronicles the brand's 30-year history: Cross Colours: Black Fashion in the 20th Century. The show, jointly curated by Tyree Boyd-Pates, history curator and program manager, and Taylor Bythewood-Porter, assistant history curator, features original design sketches, vintage textiles, and unique ephemera that help contextualize the sociopolitical climate in which Jones and Walker were designing—and offers insights about the way fashion, politics, and activism are still intertwined.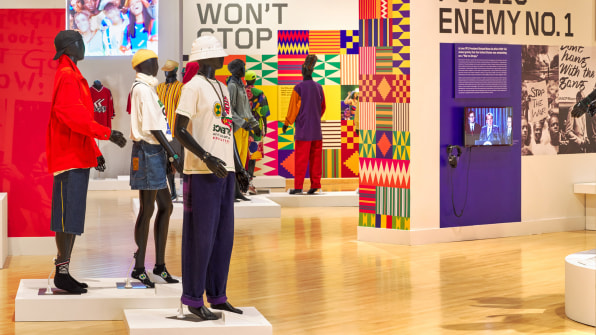 "We look at the brand and all of the historical influences through a chronological lens," says Boyd-Pates as we walk through the gallery space. "We start in the 1920s and '30s because of Marcus Garvey, whose ideology—the Back to Africa movement and ultimately the [movement's] dominant three colors, red, black, and green—were direct influences to what Cross Colours would attempt to evoke through its designs. You can see the evoking of this nationalistic idea of self-reliance, self-dependence, and self-defense."
For a generation that was dealing with the reverberations of unjust Reagan-era policies, poverty, and racially motivated police brutality, these themes struck a chord. And Cross Colours' bold brand identity, which promised "Clothing Without Prejudice" and on-trend streetwear aesthetics, made it the natural choice for America's black urban youth. Dressing a young black influencer such as Will Smith in its clothes allowed Jones and Walker to speak directly to their intended audience—an audience who'd appreciate the graphic T-shirts, multicolored striped shorts, and branded bucket hats.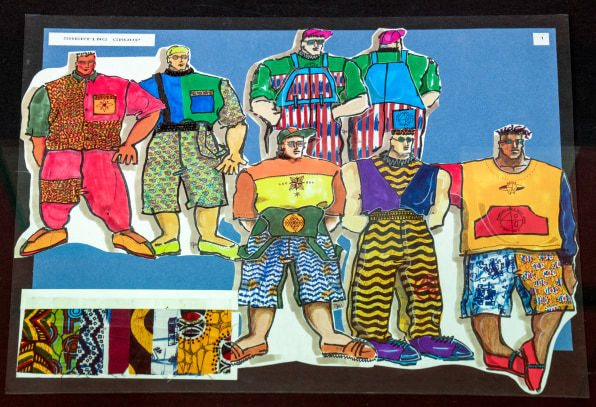 "They were just matching and modeling what black youth were saying was the pulse," Boyd-Pates says. "Black African textiles were really dominant at the time. So were unapologetically black lyrics [from artists] like KRS-One, Queen Latifah, and Public Enemy."
Audio installations placed throughout the exhibit emphasize the impact that 1990s hip-hop culture—from the birth of DJ scratching in the Bronx to the laid-back style of Los Angeles rappers in their lowriders—had on black fashion during the period as well. "What you have is black responses to backlash, and oftentimes it'll come by ways of music and fashion. . . . That's what the exhibition is chronicling," Boyd-Pates says.
The quintessential '90s apparel line also drew inspiration from Malcolm X's promotion of black nationalism and the Black Panther Party. "The X as a symbol directly influences Cross Colours in the use of the X almost 60 to 70 years later," Boyd-Pates notes, pointing to a bodysuit with the brand's X-centric logo on it. The mannequins in CAAM's gallery space are decked out in generous amounts of black and denim, similar to the Black Panther Party's uniform, "as a form of allyship with workers and black workers," Boyd-Pates explains.
Despite these Afrocentric design influences, Cross Colours enjoyed much mainstream success in America's predominantly white, suburban communities too. These adjacent demographic groups were major consumers of clothes and were inspired by the golden age of hip-hop in the 1990s as well. "[It was] seen as a subculture that was controversial and rebellious to the status quo," Boyd-Pates says. "Subcultures tend to rise and bubble to the top."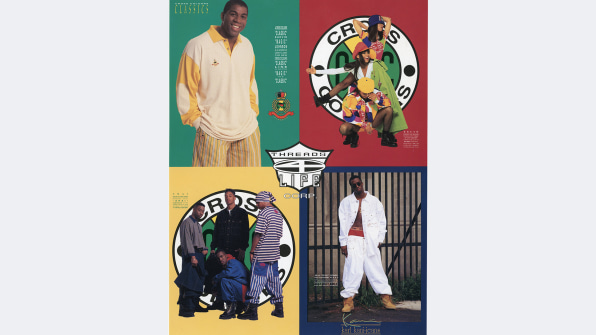 Cross Colours' impact on 20th (and now 21st) century fashion is made plain when looking at collections from mainstream and high-fashion brands from the era such as Polo Ralph Lauren and Gucci; the brightly colored polo shirts and bold appliqués that Polo became known for, and Gucci's solid, color-blocked designs, are direct descendants of the black-owned brand that was once pigeonholed as "urban streetwear."
Harlem-born haberdasher Dapper Dan's popular clothing designs were similarly influential to Gucci; so much so, the Italian luxury brand was accused of copying one of Dapper Dan's jacket designs in 2017. The public quickly called for proper credit. As of 2018, Dapper Dan and Gucci have a partnership, expressed in the form of an atelier—the first luxury-house fashion store in Harlem.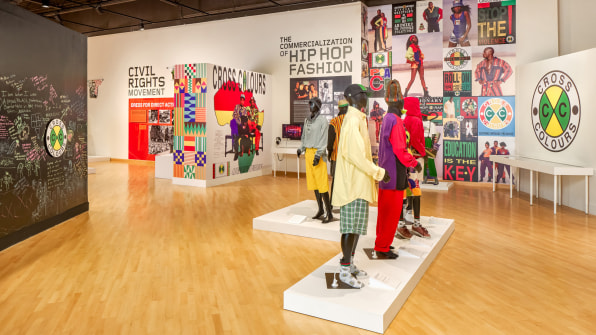 CAAM's retrospective illustrates the cord that tethers clothing and culture; through Cross Colours, we see how political black fashion is. For the marginalized, controlling one's identity through personal style is a visual statement when voice is not enough.
"We have realized that everything happens in cycles . . . so what was relevant 20 to 30 years ago, because of the shelf life of these eras, will make a resurgence," Boyd-Pates says. "If '90s clothing was dope in 1989, 30 years later it's right around the time [for it to be relevant again], because the social climates that created the things 30 years ago are actually nearly identical."
Case in point: The cyclical struggle of black men trapped in the carceral system persists today, just as it did when the war on drugs began in the '70s. Prison uniforms, ill-fitting and saggy, became associated with black culture, and Cross Colours designed fashionable clothes with that prevailing aesthetic in mind.
"They were actually making baggy clothes intentionally because they were reclaiming the narrative that you may racially profile us, but we don't care about your gaze, we care about our own. That's why they designed men's trousers to debunk the racial profiling that was happening in urban areas," Boyd-Pates says. These sentiments are eerily familiar today, a time when the criminal justice system continues to operate lopsidedly on bias, and when police forces make examples out of civilians of color.
Today, Cross Colours' appeal is global; the brand is experiencing a renaissance thanks to the popularity of eco-friendly vintage shopping, and a nostalgic interest in the '90s too. Ever the entrepreneurs, Jones and Walker are running limited reissues of some of the company's biggest hits and pursuing collaborations. Bruno Mars even teamed up with Jones and Walker to make specialized Cross Colours merchandise for his 24K Magic tour.
"They are overwhelmingly excited about the resurgence [and] about the ownership that this generation is taking of the brand," Boyd-Pates says of the founder-designers. "They're also really proud of the way they were able to stake a claim early on and trail-blaze in the way they did, changing the trajectory of fashion as we know it."