BREAKING NEWS! 2021 ATLANTA SUPERCROSS TRIPLE-HEADER DETAILS ANNOUNCED
The 2021 Monster Energy Supercross schedule was released late last year and some of the details weren't 100-percent clear. The MXA wrecking crew has been talking about the 2021 Atlanta Supercross triple-header ever since we heard that the races would be held outdoors at the Atlanta Motor Speedway and we've had our concerns about it. Up until Tuesday, February 2nd, the Supercross website had very limited details about these three races in Atlanta, Georgia. Now, we have official track maps and more information about ticket sales, the fan fest, spectators being able to watch the Qualifying practice sessions and more.
This event will feel a lot like the Daytona Supercross being that it's held outdoors and on the infield of a full-scale NASCAR track. The three different track designs will feature the same basic design with minor changes made to the layout and with new re-configured jumps and whoops for each race. The starting gate will change positions for the third race and the track will extend onto the asphalt surface for many portions of the track which means that the conditions shouldn't be as soft as Daytona where the track is primarily kept on the grass which means the riders wheels can create ultra-deep ruts and bumps. With an asphalt base used on portions of the track, the ruts shouldn't be any deeper than they are for a standard Supercross held inside of a football or baseball stadium.
There will also be Freestyle exhibitions and a Pit Bike race happening during on the two Saturday events to keep the crowd entertained before the racing kicks off. See below for more information and the official track maps for each race: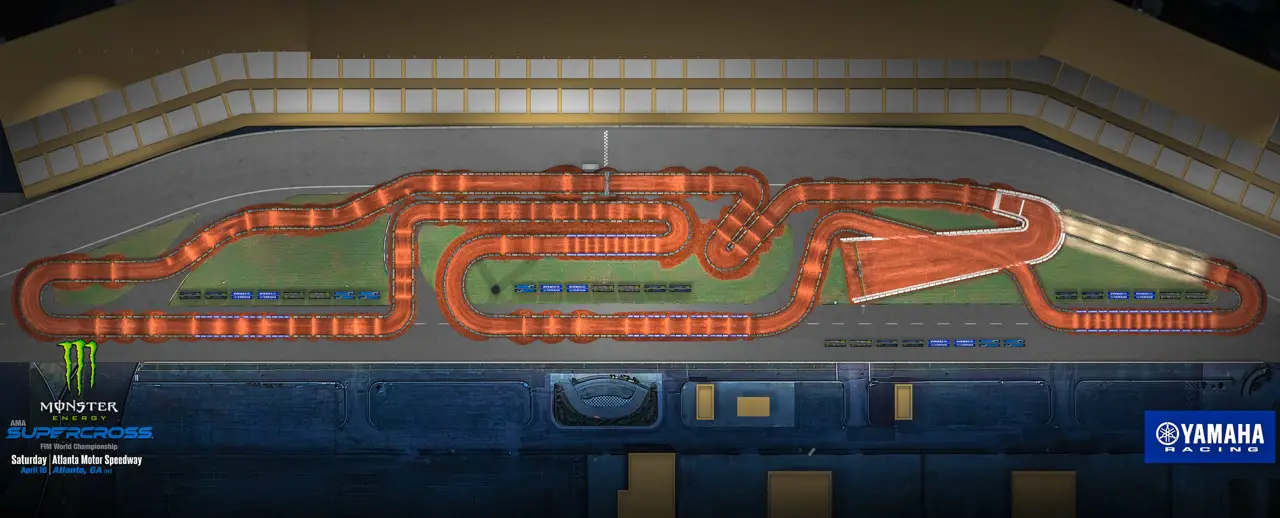 As you can see, the track spans onto the asphalt for many portions of the course. 
FELD Entertainment Press Release: Tickets are officially on sale for the Atlanta rounds of the 2021 Monster Energy AMA Supercross, an FIM World Championship, season. Atlanta, Ga., and the Atlanta Motor Speedway will play host to Rounds 13, 14 and 15 of the 17-race series beginning on Saturday, April 10 followed by Tuesday, April 13 and Saturday, April 17.
The Atlanta Motor Speedway joins a small list of venues in Atlanta to host Supercross dating back to 1977 at Fulton County Stadium. When the Atlanta Motor Speedway opened its doors in 1960 it became the seventh superspeedway in the country and now joins just Darlington, Charlotte, and Daytona as one of the original seven still in operation. The April triple-header will be a first for the speedway and a first for the Atlanta market.
2021 ATLANTA SUPERCROSS 2 TRACK MAP
A slightly redesigned track layout that features an ultra-long straightaway that is slowed down at the first Atlanta Round by a 180-degree corner. 
Tickets for the 2021 Atlanta rounds will go on sale to the general public on Tuesday, February 9 at 10 a.m. ET. Preferred customers can sign up in advance for early access to purchase tickets today, February 2 through February 8, by visiting
SupercrossLIVE.com
, starting at 10 a.m. ET.
FanFest is currently scheduled to take place at the Atlanta rounds as the venue provides adequate space to feature the race team rigs, Monster Energy exhibitions, photo opportunity set ups, food and beverages, plus authentic Supercross and racer merchandise sold via contactless shopping.
Tickets for FanFest are an additional $10.00 purchase. The Monster Energy Can redemption program has been halted for this season but will continue in 2022. Fans that have both a FanFest ticket and an event ticket will be allowed to move between FanFest and the stadium to watch all the qualifying sessions.
2021 ATLANTA SUPERCROSS 3 TRACK MAP 
The third Round in Atlanta has a new start position. 
2021 ATLANTA SUPERCROSS SCHEDULE OF EVENTS
FanFest
Atlanta Motor Speedway: Doors Open
Supercross has implemented enhanced health measures to help ensure the highest standards of wellness when it comes to today's live experience. Seating capacity will be reduced at each stadium with a Pod Seating structure, which will allow family and friends to safely enjoy all the action while social distancing from other groups in attendance. More information about Atlanta Motor Speedway's health and safety policy can be found
by clicking here
. Unless otherwise exempted by law, guests age 2 and older must wear a face covering except when actively eating and drinking – local venue rules also apply. More information about Monster Energy Supercross' Fan Wellness can be found
here
.
Additional details for each race can be found on the event page listing at
SupercrossLIVE.com
.
Following the three rounds in Atlanta, the series shifts west to Salt Lake City for the final two races of the 2021 season taking place at Rice-Eccles Stadium on Saturday, April 24 and Saturday, May 1.