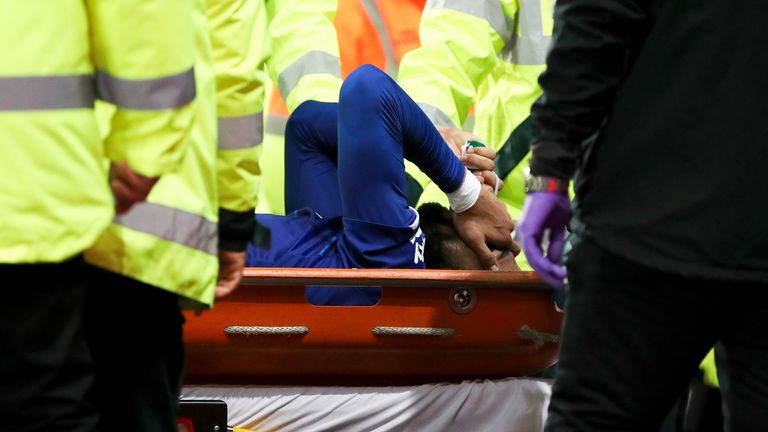 Former Coventry defender David Busst, whose career ended after injury in a match against Manchester United in 1996, says Everton's Andre Gomes will need plenty of support in order to return to action
Andre Gomes has undergone surgery to repair a fracture dislocation to his right ankle sustained during Sunday's match with Tottenham.
Everton say the procedure went "extremely well" and the midfielder is expected to make a full recovery.
Gomes will continue his recovery in hospital before stepping up his rehabilitation at Everton's Finch Farm training ground.
Gomes now faces a lengthy spell on the sidelines
Everton said in a statement: "On behalf of Andre, the club would like to thank all Everton supporters and members of the wider football family for the overwhelming messages of support we have received since yesterday's match."
💙 | A positive update on @aftgomes. 🙏
On behalf of Andre, we'd like to thank everybody for their support. #EFC pic.twitter.com/RHuIkOAr8V
— Everton (@Everton)
The Portugal international is expected to be sidelined for anywhere between six months and a year given the seriousness of the injury, which left players from both sides in shock on the pitch at Goodison Park.
Gomes was badly hurt 79 minutes into Everton's 1-1 draw with Spurs after he collided with Heung-Min Son and was propelled into Spurs full-back Serge Aurier, landing innocuously.
Heung-Min Son looks on in horror after his challenge on Gomes
After some initial confusion, Son was sent off for his challenge on Gomes once the extent of the midfielder's injury became clear.
Son was visibly distraught upon realising the severity of Gomes' injury, and was comforted by Everton captain Seamus Coleman in the Spurs dressing room after the game.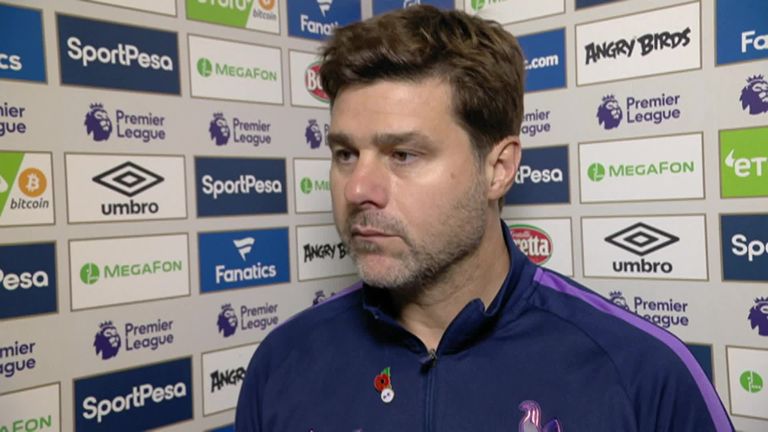 Mauricio Pochettino said the priority of the game changed following Gomes' injury
The Professional Game Match Officials Board has since told Sky Sports News that despite Atkinson initially removing a yellow card from his pocket, it was never shown to Son.
As the dismissal was for a straight red card, Tottenham are free to appeal Son's red card, unlike in a situation where a player is dismissed for receiving two yellow cards.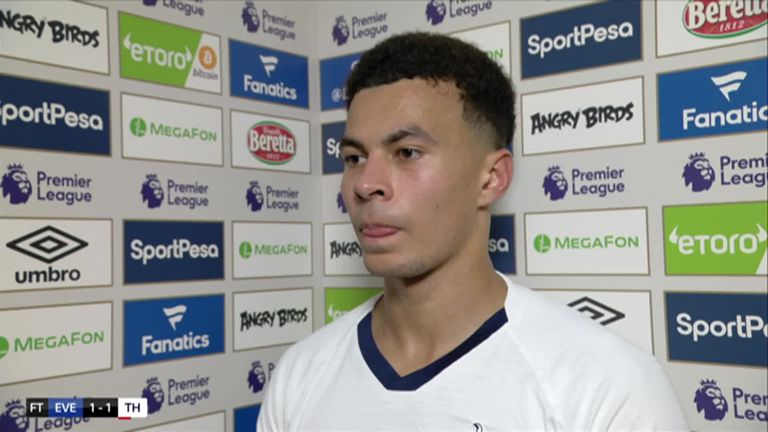 Dele Alli said Son was absolutely devastated following Gomes' injury
Holgate: We wanted to do it for Gomes
Though Everton cancelled out Dele Alli's opening goal with a Cenk Tosun header deep into the 12 minutes of time added on following Gomes' injury, there was little sense of celebration at full-time.
Wish you a fast recovery @aftgomes . You are a warrior 💪🏿 pic.twitter.com/WMPTb6OEfg
— Idrissa Gana Gueye (@IGanaGueye)
Everton defender Mason Holgate said he and his team-mates felt like they owed it to Gomes to get a result, but the draw still felt like a defeat.
"It is hard when something like that happens to get going again but we showed fight and went again," Holgate said.
Gomes joined Everton in the summer after a successful loan move last season
"But it shows what we are about as a team. We got together and I think it drove us on a bit more once we got going, trying to do it for him.
"It was really flat [in the dressing room]. It was like we had been beaten. He is all our friend and our team-mate so we are all gutted and wishing him the best."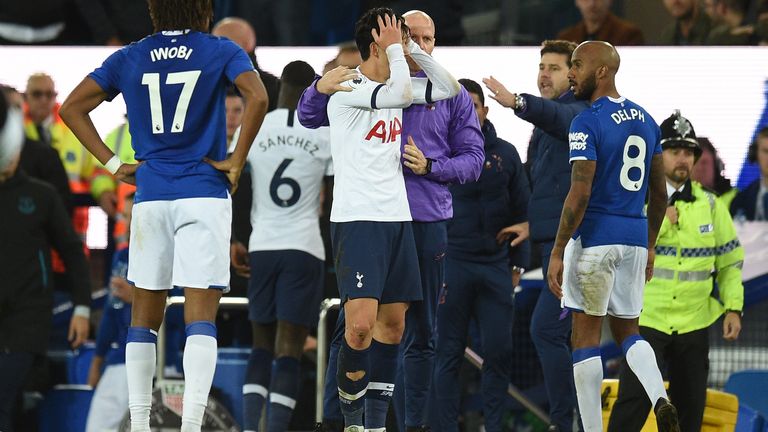 Jamie Carragher and TIm Cahill said there is a lot of grey area surrounding the incident that saw Son sent off
Saha: Gomes needs support
Louis Saha, who broke his leg while playing for Everton, said during Sunday's coverage: "It was a horrific memory. It is not something you really expect to come back from quickly because you have a memory always coming back.
"It's a moment where you need your family around you, you need your team-mates sending you messages and making sure you feel supported because it is very tough."
Police investigate racist tweet
Merseyside Police say they are investigating a tweet of a racist nature in the wake of the game.
The statement read: "A report was received following the Everton v Tottenham Hotspur match that the post was on Twitter.
"Merseyside Police will not tolerate hate crime in any form and is working to identify and bring to justice anyone found responsible for committing a hate crime".