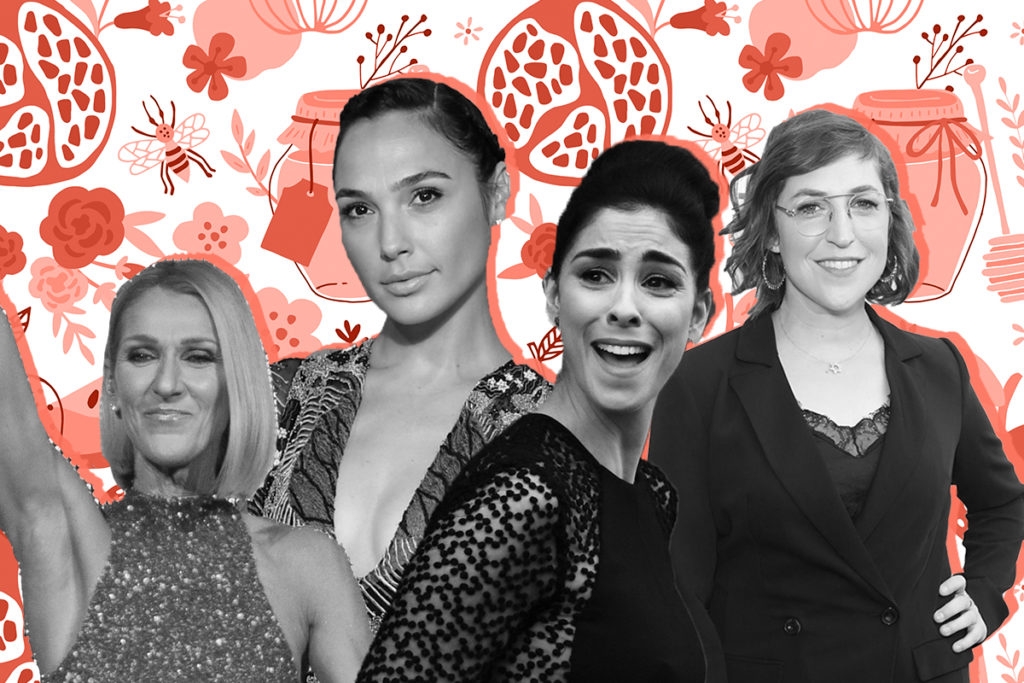 Jewish celebrities, they're just like us! They celebrate Rosh Hashanah; they eat apples and honey and challah; they make dad jokes about "shofar so good."
To keep these good vibes going, we rounded up 26 Jewish celebrities (plus one bonus Celine Dion!) with their Rosh Hashanah celebrations and messages.
1.  Israeli actress Gal Gadot shared an image of her cheers-ing with friends or family. She wrote, "Today is the Rosh Hasahna (Jewish new year) May the new year be filled with special simple moments to cherish -laughter, happiness and good ppl surrounding us





" (A+ use of emojis, Gal!)
2. Jewish comedian Sarah Silverman joked she is no longer wishing people "Happy Holidays," she's only saying "Shana Tova!"
No more of this "Happy Holidays" bullshit we're gonna say SHANA TOVA again! #WarOnRoshHashanah #ImKiddingDummyDontAtMe

— Sarah Silverman (@SarahKSilverman) September 30, 2019
3. Fellow Jewish comedian Billy Eichner rang in the Jewish New Year at Radio City Music Hall, watching Ben Platt perform.
Brought in the Jewish New Year the only way I know how – watching my friend @BenSPLATT bring @RadioCity to its feet multiple times. An INCREDIBLE show. Congrats Ben!

— billy eichner (@billyeichner) September 30, 2019
(Beanie Feldstein, Ilana Glazer, Henry Winkler and many other Jewish celebrities were in attendance!)
4. Maisel star Alex Borstein, fresh off her Emmy win, shared an image of her sons as "Shimmy Sham Spidey" and "The Masked Avenger," wishing her followers "L'Shanah Tovah!"
5. Lena Dunham performed tashlich, a Jewish tradition that symbolizes casting off your sins. She wrote on Instagram, "As I was joyfully letting it all go on a windy Sunday on the Cornish coast, a massive wave hurled itself over the sea wall and onto my head. The group of tweens in the nearby parking lot may have laughed like I got what I deserved, but I laughed because I'd just given away anything that I could be punished for. I'm thankful for this time of reflection. Happy Rosh Hashanah friends

"
6. Argentinian Jewish tennis star Diego Schwartzman wished his Twitter followers a sweet new year (with the Jewish star emoji, natch):
SHANA TOVAH UMETUKA

— diego schwartzman (@dieschwartzman) September 30, 2019
7. Singer Regina Spektor wished her followers a sweet and happy new year — filled with love, peace, art, happiness, kindness, and health. (And some apples and honey are awesome, too!)
Shana Tovah dear peeps! A sweet and happy new year is all we need! Oh and Love. And Peace. And Art. And Happiness. And Kindness. And Health. And some & is always awesome too. L'Chayim

— Regina Spektor (@respektor) September 29, 2019
8. Grown-ish Jewish actress Emily Arlook (she plays a bisexual Jewish college student on the Freeform sitcom) wished a happy new year to everyone who "needs a reason to usher in new energy."
9. Jewish actress Marlee Matlin shared a message on Twitter using the classic Rosh Hashanah food, pomegranates:
Shanah Tovah. A sweet, joyful and Happy New Year! pic.twitter.com/0NKSNPrvdB

— Marlee Matlin (@MarleeMatlin) September 29, 2019
10. Recent bat mitzvah Jenny Mollen shared a shot from her Rosh Hashanah festivities — with a challah on her head!
View this post on Instagram

"That time mom roamed around the apt with a gigantic loaf of bread on her head screaming, "I am the high priestess of Challah!" #lshanatova
She also posted a photo of one of her children, writing "l'shana tova everyone!"
11. Man Repeller founder Leandra Cohen wished her followers "Happy 5780" with a piece of lox in her mouth, duh:
12. Fellow #influencer Arielle Charnas shared a photo of her family on Rosh Hashanah morning:
And of her daughters the night before:
13. Jewish actress Mayim Bialik shared her 10 mea culpas for Rosh Hashanah over at JTA. She also posted her Rosh Hashanah baking!
Done baking for now. Happy New Year. pic.twitter.com/kaks7XTEst

— Mayim Bialik (@missmayim) September 29, 2019
14. Remy Duran, the Mexican Jewishreality star, shared a Rosh Hashanah message on his Instagram:
15. Jewish actor Josh Malina shared a video of him with a shofar with audio of "tekiah" overlaid. (He shared the same thing last year! A classic.) "Wishing you all a shanah tovah umetukah! May you have good health, peace, and joy in 5780!" he wrote.
16. Jewish actress Leslie Grossman wished a happy new year to everyone except Donald Trump, his administration, and anyone who defends him.
Shana Tova to everyone except Donald Trump, his entire administration and every single person who defends him. Hoping 5780 brings health happiness and a new President

— Leslie Grossman (@MissLeslieG) September 30, 2019
17. Justin Bieber's manager Scooter Braun and his wife, Yael (who is great on Instagram!) spent their Rosh Hashanah at Justin Bieber's wedding. But, Braun tweeted they still found time for services at a local synagogue in South Carolina.
Shana Tova and thanks to Beth Yam in Hilton head for taking us in. Happy new year to everyone out there. May this new year be filled with joy and happiness

— Scooter Braun (@scooterbraun) October 1, 2019
Here they are with the Biebers:
18. British Jewish actor Jason Isaacs (you probably know him as Lucius Malfoy from the Harry Potter series) tweeted Happy New Year to Jews everywhere, and to anyone who likes bagels.
"Remember that time when nobody was trying to kill us? Me neither," he wrote. "May all of your years be sweet, fruitful and fascist-free."
A belated Happy New Year to jews everywhere (and anyone who likes bagels). 5780 years now. Some run. Remember that time when nobody was trying to kill us? Me neither.

May all of your years be sweet, fruitful and fascist-free. #ShanaTova#NotYouJared

— Jason Isaacs (@jasonsfolly) October 1, 2019
19. Jewish celebrity chef Ina Garten shared a recipe for honey cake. Honestly, the Rosh Hashanah content we want from her!!