Ask Jeremy Sancebuche—famously known as Mimiyuuuh—what it was like for her to go viral. She'll most likely hit you back with: "Alin po, yung una o yung pangalawa?" Don't take it the wrong way, though. It's not a weird flex—she seriously wants to know.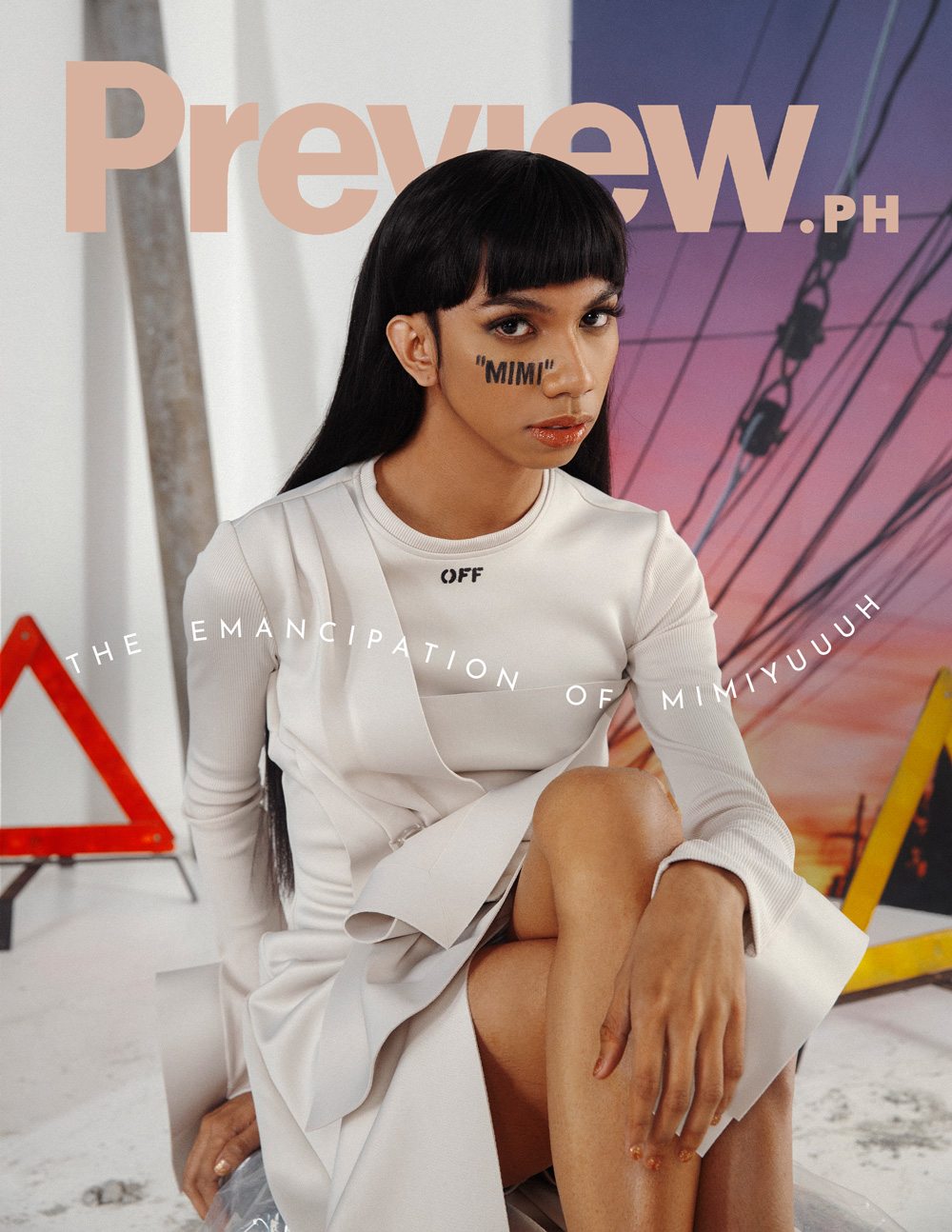 Mimiyuuuh for Preview.ph November 2019
The first, if we're getting right down to it, was the , which can now be easily recognized as Classic Mimi: She's dancing barefoot and there's a Zooey Lucky Star cabinet behind her, but she's also wearing an oversize Mean Girls tee and a sleek deconstructed pair of pants she had designed herself. 
Not three weeks later came that, she reveals, "nagpabago talaga ng aking mundo." In it, she unleashes a series of pa-cute poses and winks, flashing peace signs and finger hearts, all set to the Allmo$t rap song "Dalagang Pilipina." It's an exaggerated and tongue-in-cheek spin to local selfie culture, especially among young girls. But everything about it works, from Mimi's stylish symmetrical bangs to the gratuitous slow-mo.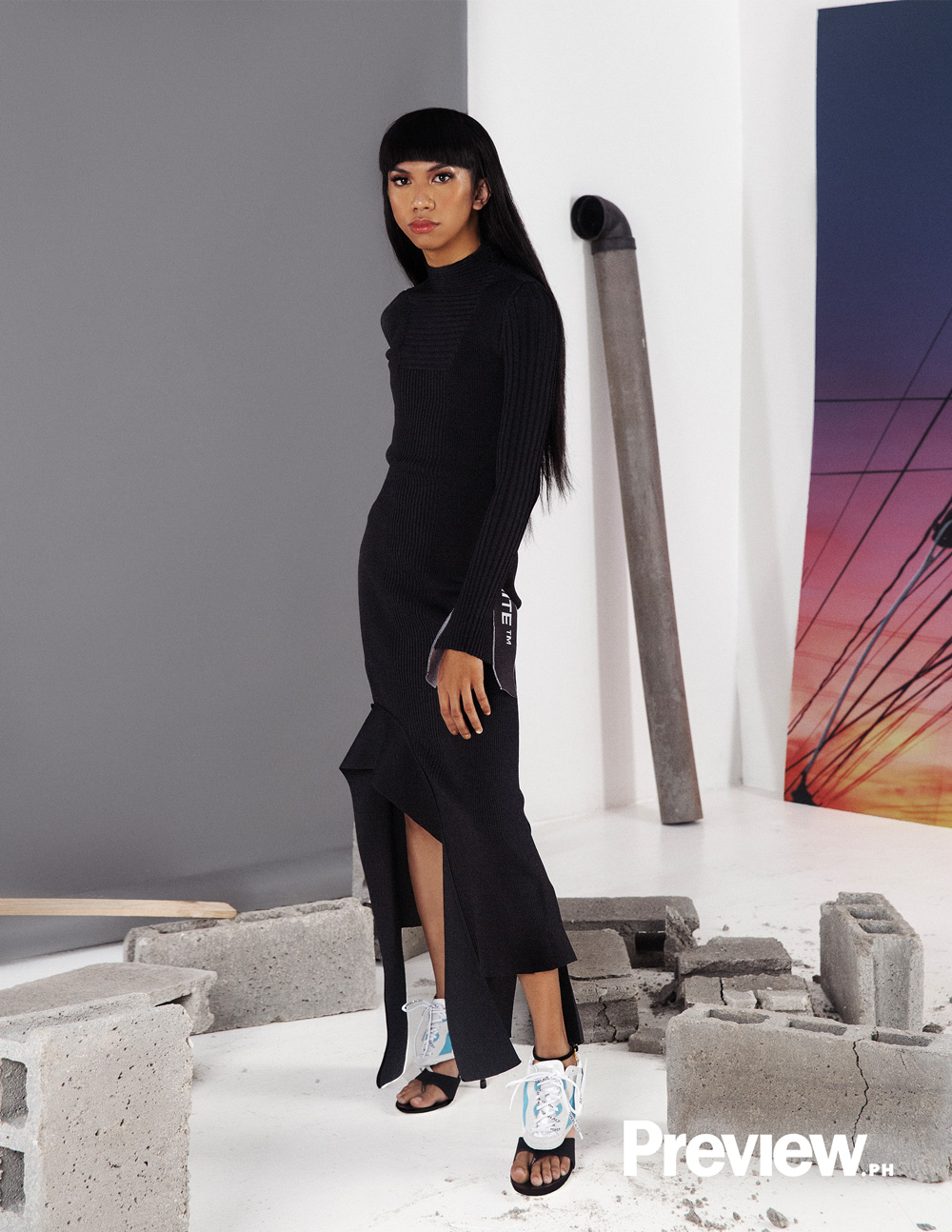 Long black knit dress, P125,698, OFF-WHITE, 8 Rockwell
The Rise of Your Girl Mimiyuuuh
In an age where everyone—even their mother or their dog—can go viral, a true overnight sensation has become hard to find. Mimi's original tweet reached 12.6 thousand retweets and 59.5 thousand likes, and it has hit just shy of a million views. She went from a little over a thousand Instagram followers to, as of writing, over 450 times that. Thanks to this new audience, she has landed brand partnerships, television guestings, and magazine covers. You can even see her face on the back of a public bus. 
"Nakakagulat po talaga," says Mimi. "Nag-expect naman ako na maraming makakanood pero hindi ko in-expect na ganun karami. Natutuwa naman ako na tinanggap siya ng [public]."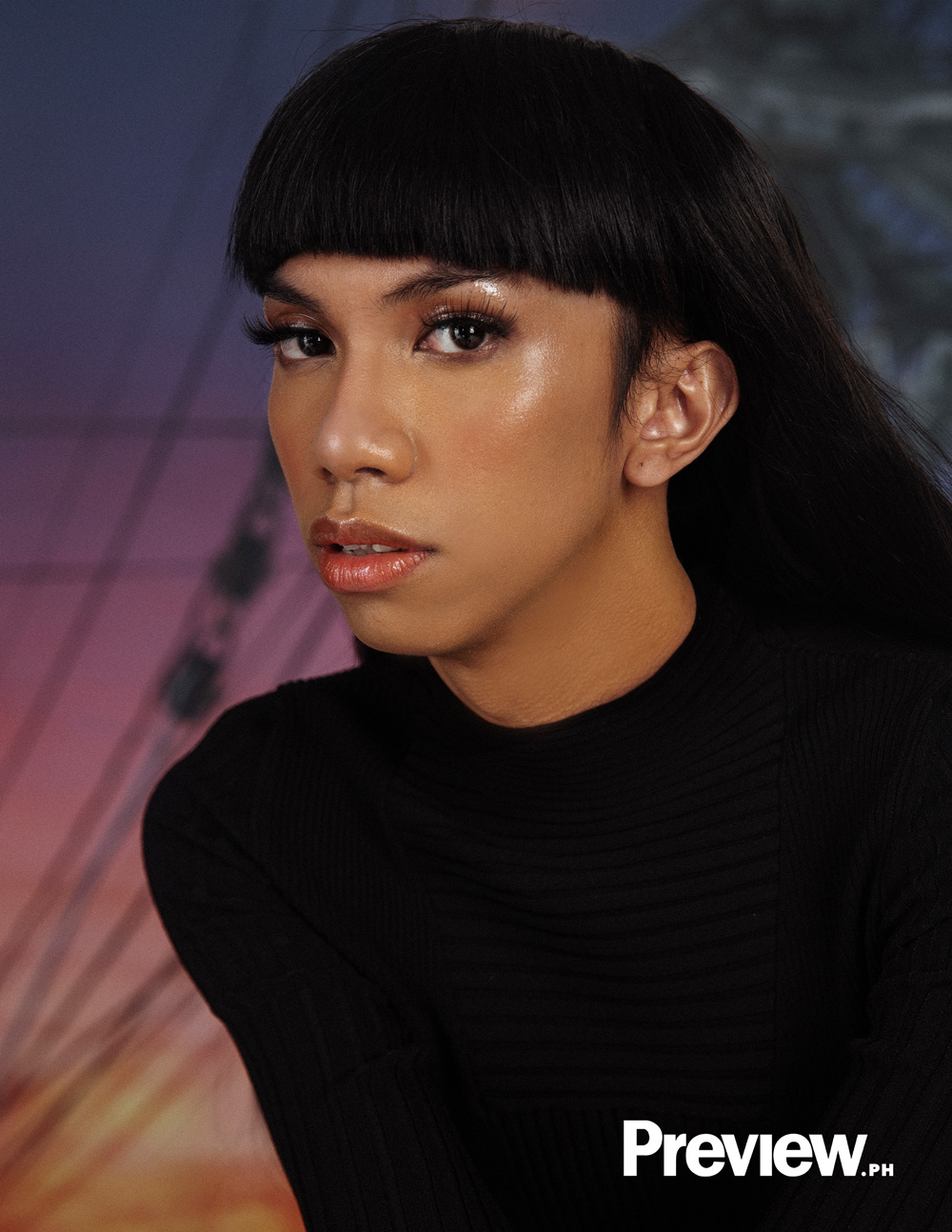 Everything changed for her when people on the street started asking her if she was that girl. It was rapid, she says, and overwhelming. She wasn't so quick to adjust to the retroactive recognition. "Hindi naman talaga ako sanay na maraming nakakakilala kapag lumalabas ako," she admits. "Parang normal ka lang naman talagang tao, tapos nung lumabas yung videos maraming nagpapa-picture sa labas. Hindi ako kaagad naka-adapt sa ganung buhay, [kahit] hanggang ngayon."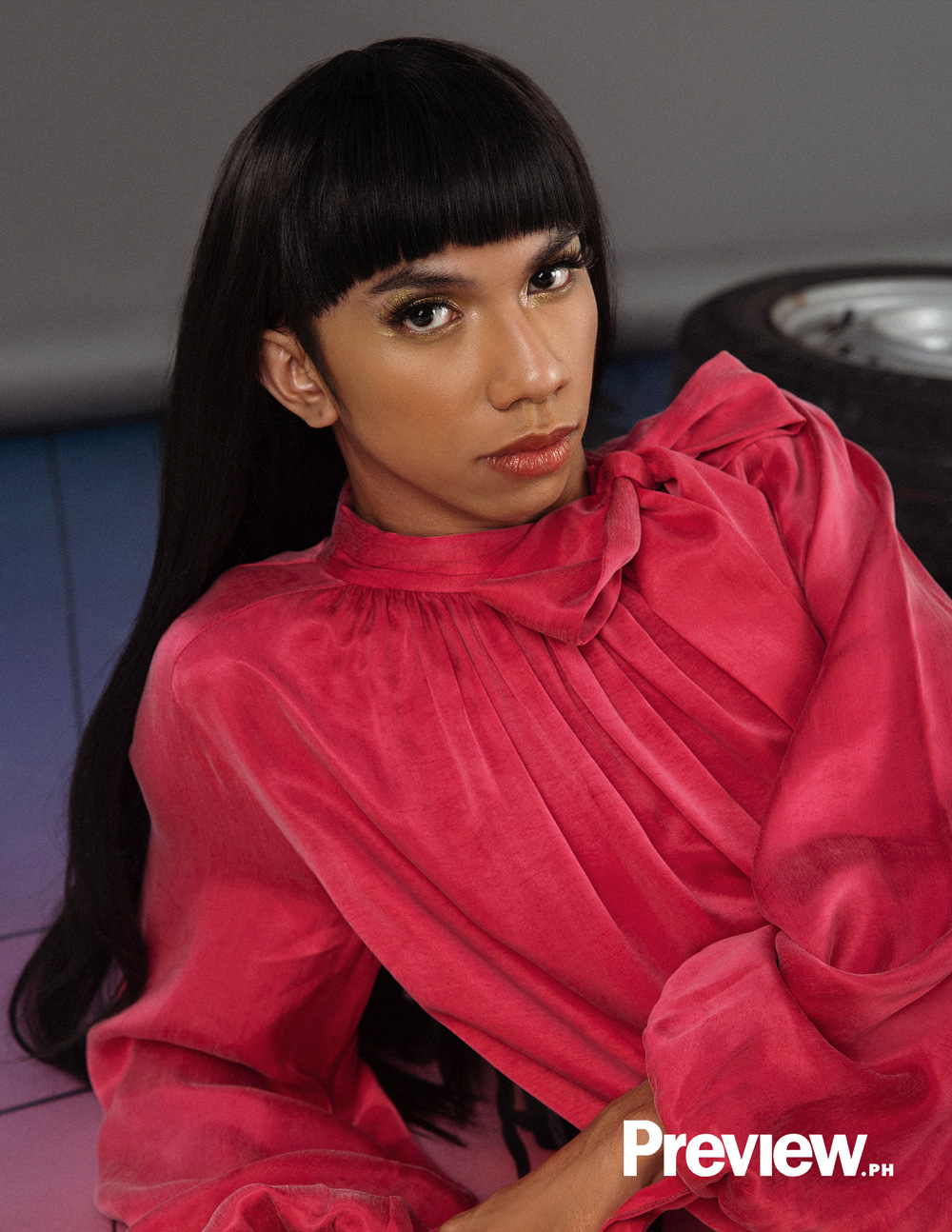 Pink tie-neck blouse, P64,198, OFF-WHITE, 8 Rockwell
She opened up about these concerns to people she's close with, and came to realize that these developments were something to be thankful for—through them, she gets to affect people and form a community. Still, recounting the first time she saw herself on a billboard, she exclaims "OA!," which, as it quickly becomes apparent, is her version of "Grabe!" She muses, "Out of everyone [na pwedeng magka-billboard], bakit ako?" 
But the question on everyone else's mind is "Why not Mimi?" Growing up, she had always stood out, the center of school performances and selected to lead dances in church. And through it all, she's only ever been herself. "With me, what you see is what you get."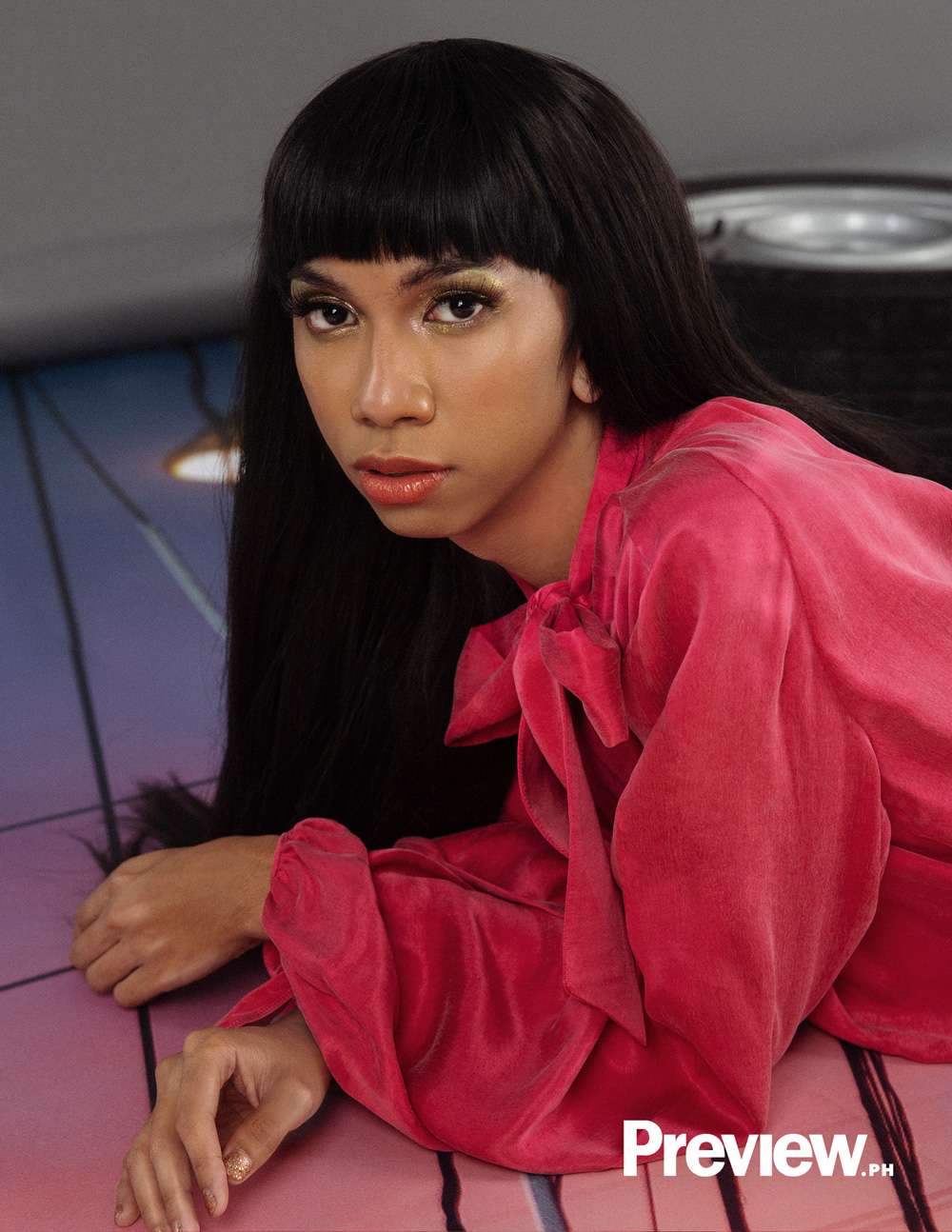 Mimiyuuuh Is as Real as It Gets
Talking about her comedy style, she laughs and shrugs, "Ewan ko, eme-eme," before allowing that it could be called genuine. Sharing her creative process, she sagely advises, "Dapat knowledgeable ka talaga kung ano ang pinag-uusapan sa social media," then to give it a twist and interpret it according to who you are.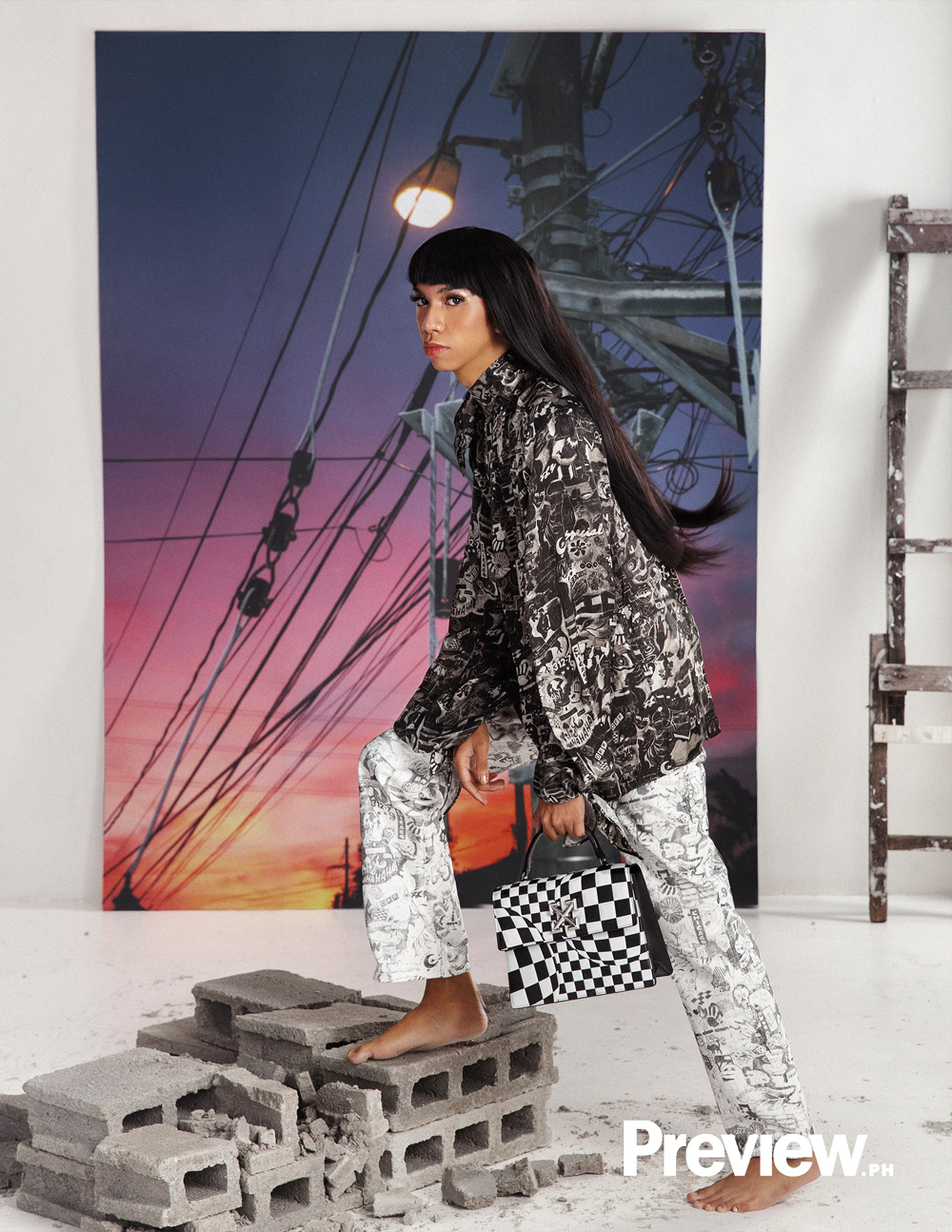 Printed tie-neck blouse, P68,498; Printed jeans, P52,398; Top-handle bag, P94,698; all OFF-WHITE, 8 Rockwell
"I thinkpinapa-realizeko na angfashion,hindi naman siya pag-iinarte.It's about self-expression, and boosting your self-confidence, so it's more than that."
Mimi never really set out to be famous—although her heart has always been set on fashion. She collected paper dolls and sketched outfits as a child and decided in her sophomore year of high school that she would pursue fashion design after friends kept asking her to design their prom dresses. She ended up going to De La Salle-College of Saint Benilde on a full scholarship, graduating with honors from the Fashion Design and Merchandising program in 2017, and during her time there established an independent clothing line called Fangs. 
"Miss ko na," she says wistfully, referring to her brand. "Yun sana yung endgame ko, magkaroon [at mag-maintain] ng clothing line."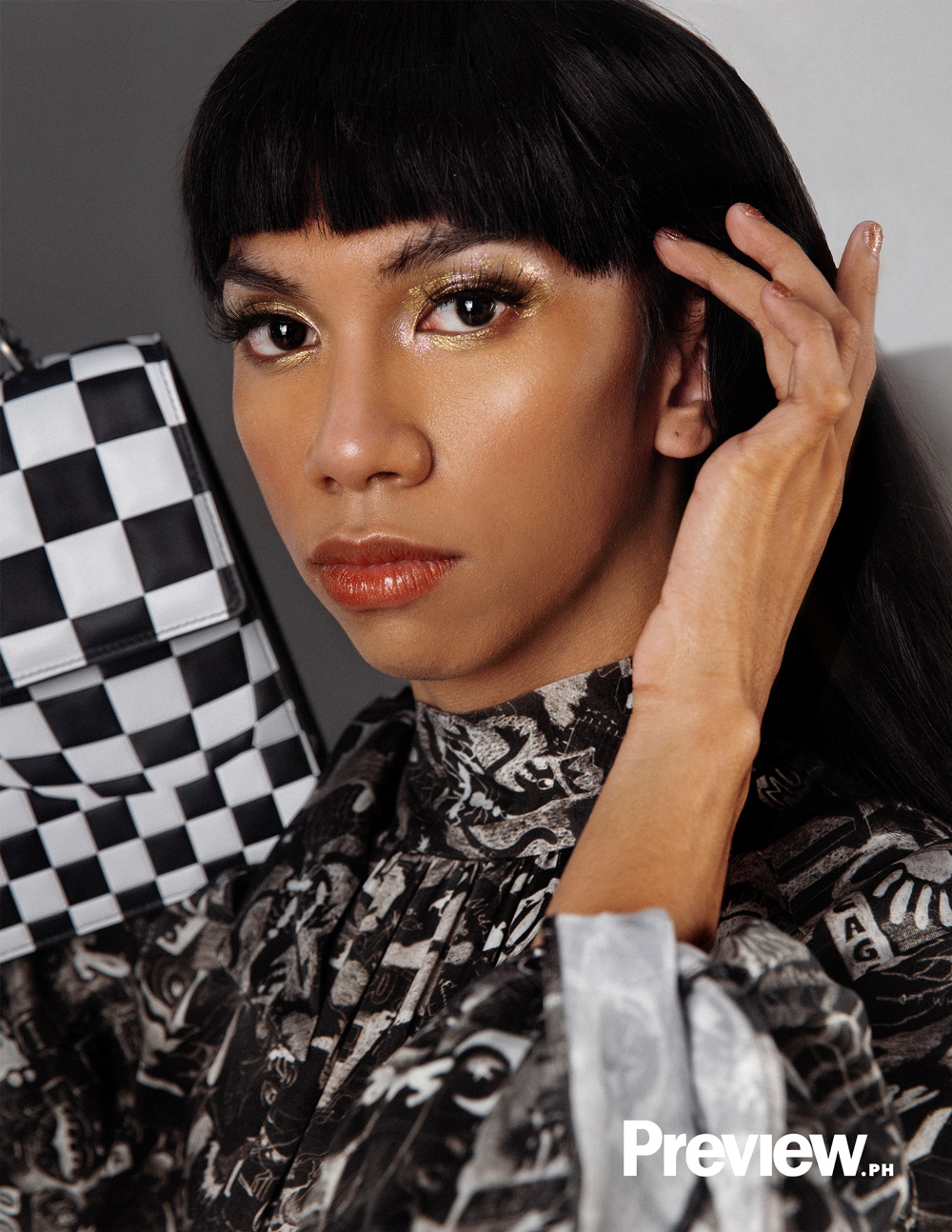 Mimi describes her style as fun, trendy, and experimental. She always wants to apply something new. She can't live without earrings, denim, layering, and oversized tops. Fashion school taught her to track trends and develop her own taste in brands. "Kapag ako kasi nagde-design, gusto ko masusuot ko," she adds. "So I start with my taste and design something na feel ko rin pag sinuot ng ibang tao magiging confident din sila. 
She gets shy when it's suggested that she might be a fashion icon, yelling another "OA!" Nonetheless, she acknowledges that it's been wonderful getting to bridge the gap between high fashion and what's considered jologs and street. "Mas na o-open up yung mga ordinaryong tao about fashion [dahil sa nakikita nila sa'kin],"she says. "I think pinapa-realize ko na ang fashion, hindi naman siya pag-iinarte. It's about self-expression, and boosting your self-confidence, so it's more than that."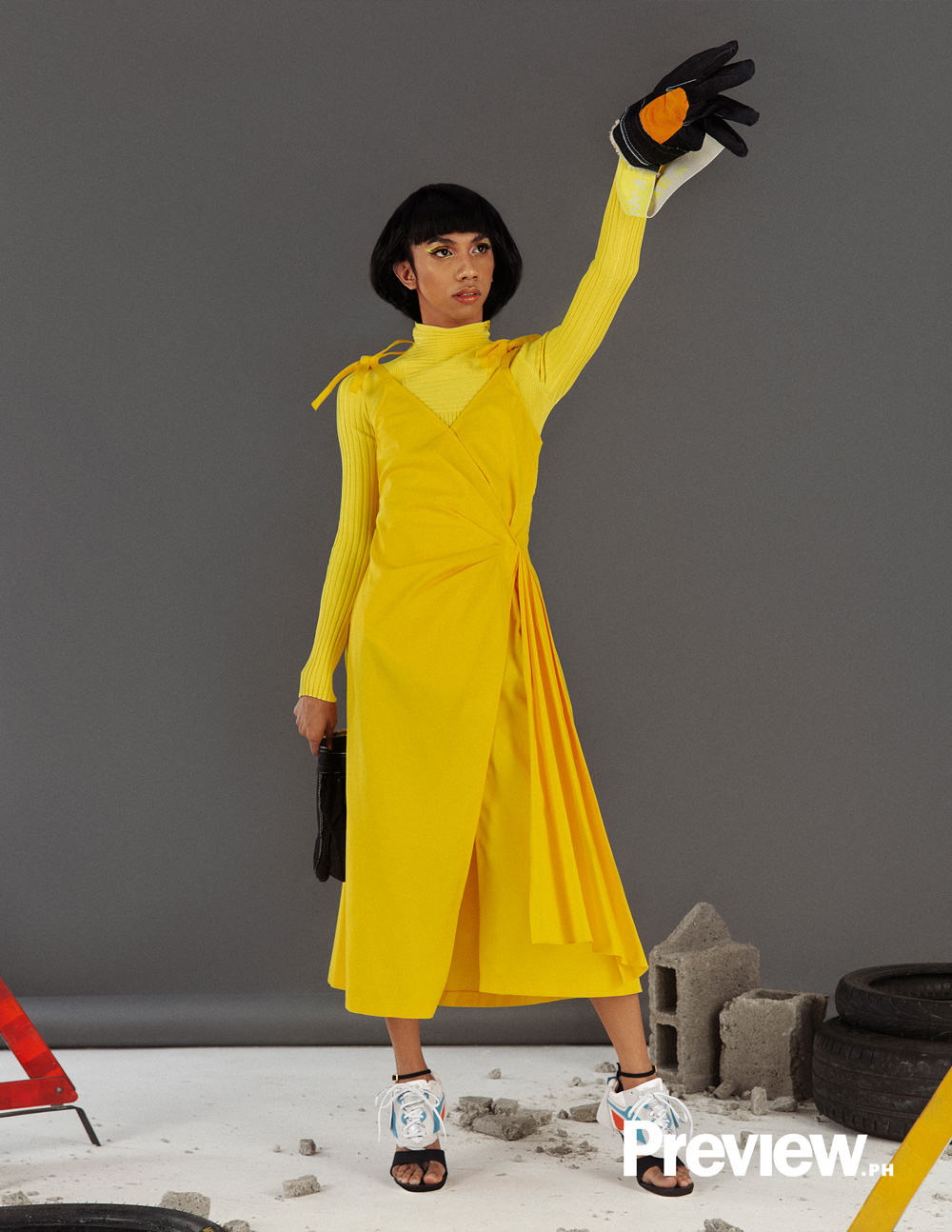 Knit turtleneck, P89,198; Dress, P63,798; Sneaker hybrid stiletto sandals; all OFF-WHITE, 8 Rockwell
Your Girl Is the Definition of a True Role Model
Mimi turns earnest when she reveals that her first major investment is a house. "Nagpapagawa ako ng bahay," she says. Because of the opportunities she's gotten, she's been able to support her family. "Mas nagagampanan ko na yung role as a child, to give back to your parents." She doesn't even wait a beat, however, before adding, "After that, bibili na ako ng Birkin," and bursting into infectious laughter. (Her first major fashion purchase? A pair of Maison Margiela Tabi boots in space-age silver. "Parang, 'Yes, I made it, mom!'") 
"If you think you're surrounded by peoplena pinapa-feelsa 'yo naworthlesska, iwasan mo muna silaand find love within yourself."
She recently made the rounds on Twitter again for chastising a student who watched her videos instead of studying for a test. "Know your priorities guys!" she wrote. "Stop using me as an excuse sa katamaran niyong mag-review. It ain't cute!" In another refreshing turn, Mimi has been using the platform she's gained to raise awareness and educate people on issues that matter to her, including LGBTQ+ rights and equality, as well as these occasional nuggets of wisdom (and sass).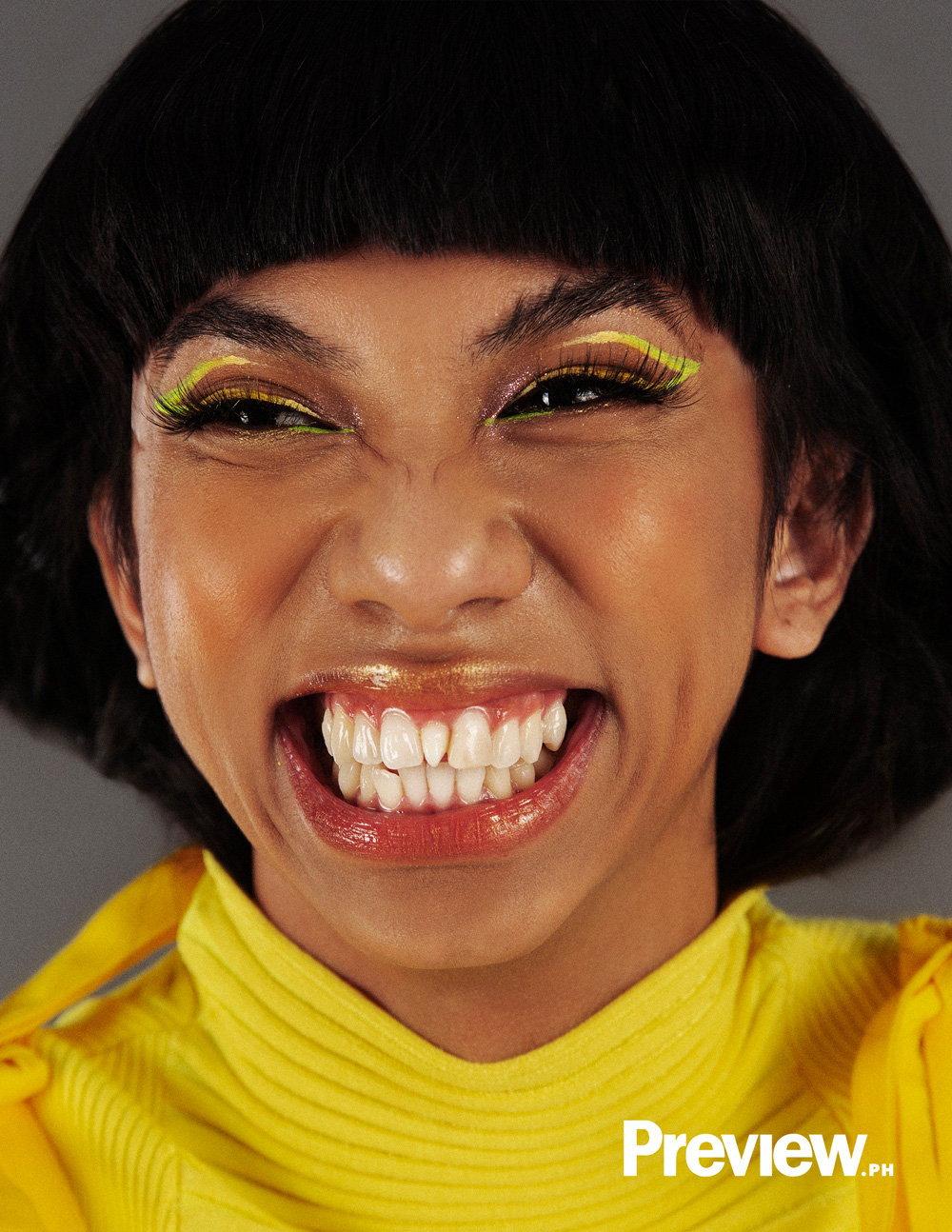 "Ang main goal ko talaga is to let people realize na hindi naman nila talaga kailangang maging perfect to be successful," she says. "Yun talaga ang pino-promote ko, self-love and hyping yourself up." 
It wasn't easy for her to get to that place of self-love and confidence. "Siguro kasi nung bata binu-bully talaga ako sa ngipin ko [at] sa pagiging bakla," she muses. "But like I always say, self-love is a learning process. Hindi mo naman talaga siya kaagad mare-realize na, 'Ay, okay lang pala na ganyan.' It took some time, but it's worth it."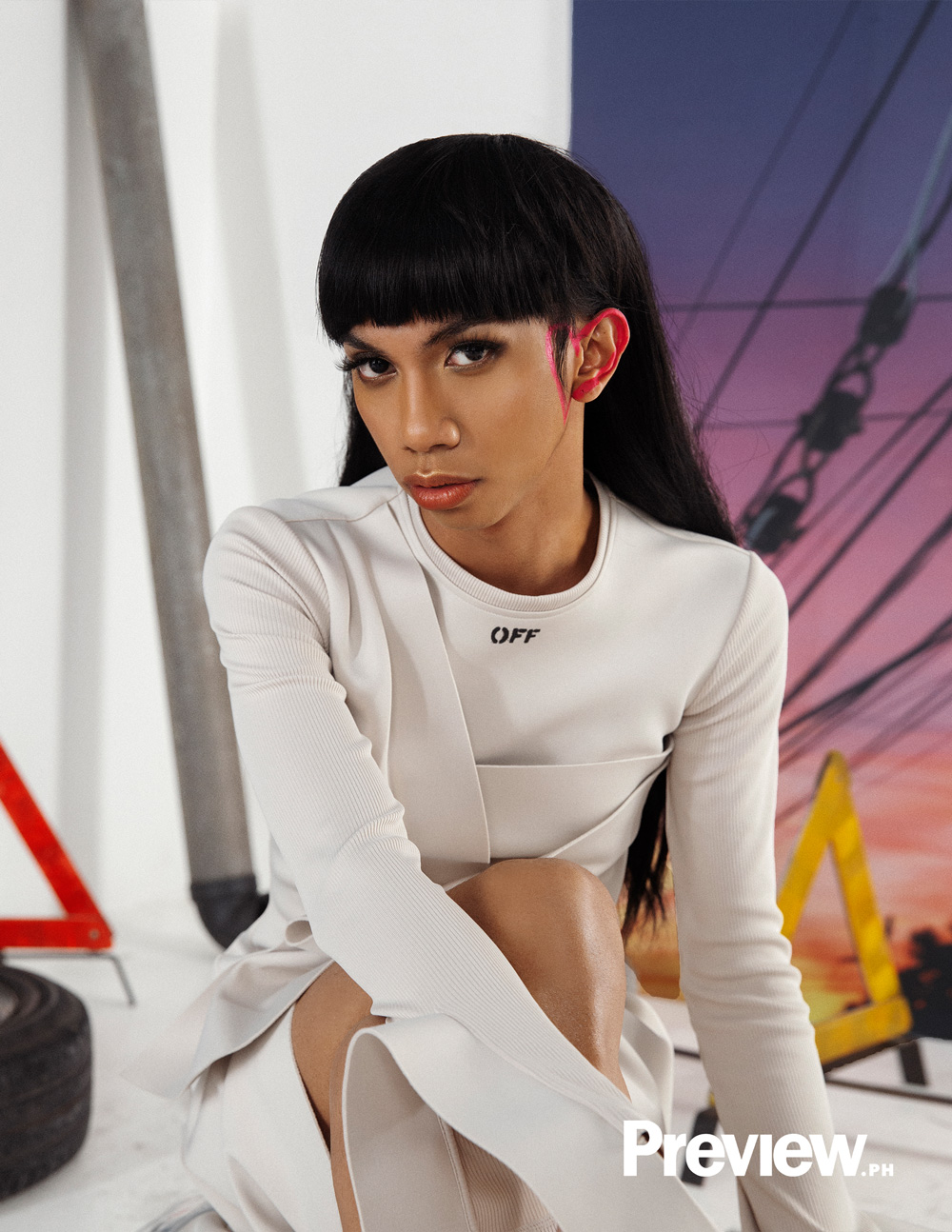 Cream wrap dress, P58,298, OFF-WHITE, 8 Rockwell
She got there, she adds, because she's surrounded by people who accept her for who she is. "Hindi ko naman talaga kailangan na i-please yung ibang tao as long as yung mga tao na mahal ko, mahal rin ako, tanggap ako," she says. "If you think you're surrounded by people na pinapa-feel sa 'yo na worthless ka, iwasan mo muna sila and find love within yourself."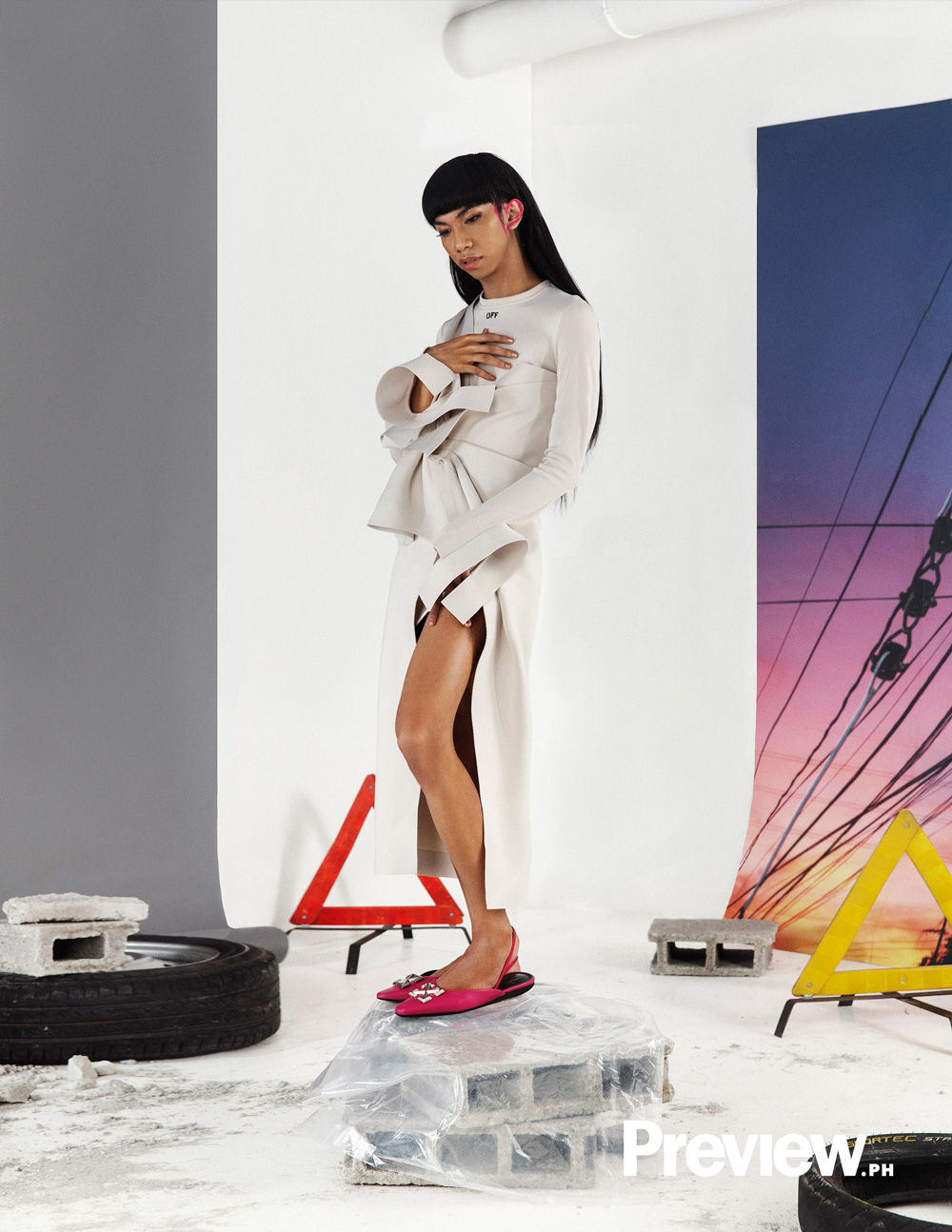 Cream wrap dress, P58,298; Arrow slingback flats, P46,498; both OFF-WHITE, 8 Rockwell
For Mimi, there's still some pressure that comes with everything she puts out there. "Pero sabi nga nila, pressure makes diamonds," she says. She's had a life-changing year, and it's not even over. "I think it made me stronger. It made me wiser. I learned a lot." 
With her birthday coming up, one has to wonder how she's planning to spend it. "With my job," she says, matter-of-fact. "I've got to keep working for my future!" Honestly, who is doing it like her?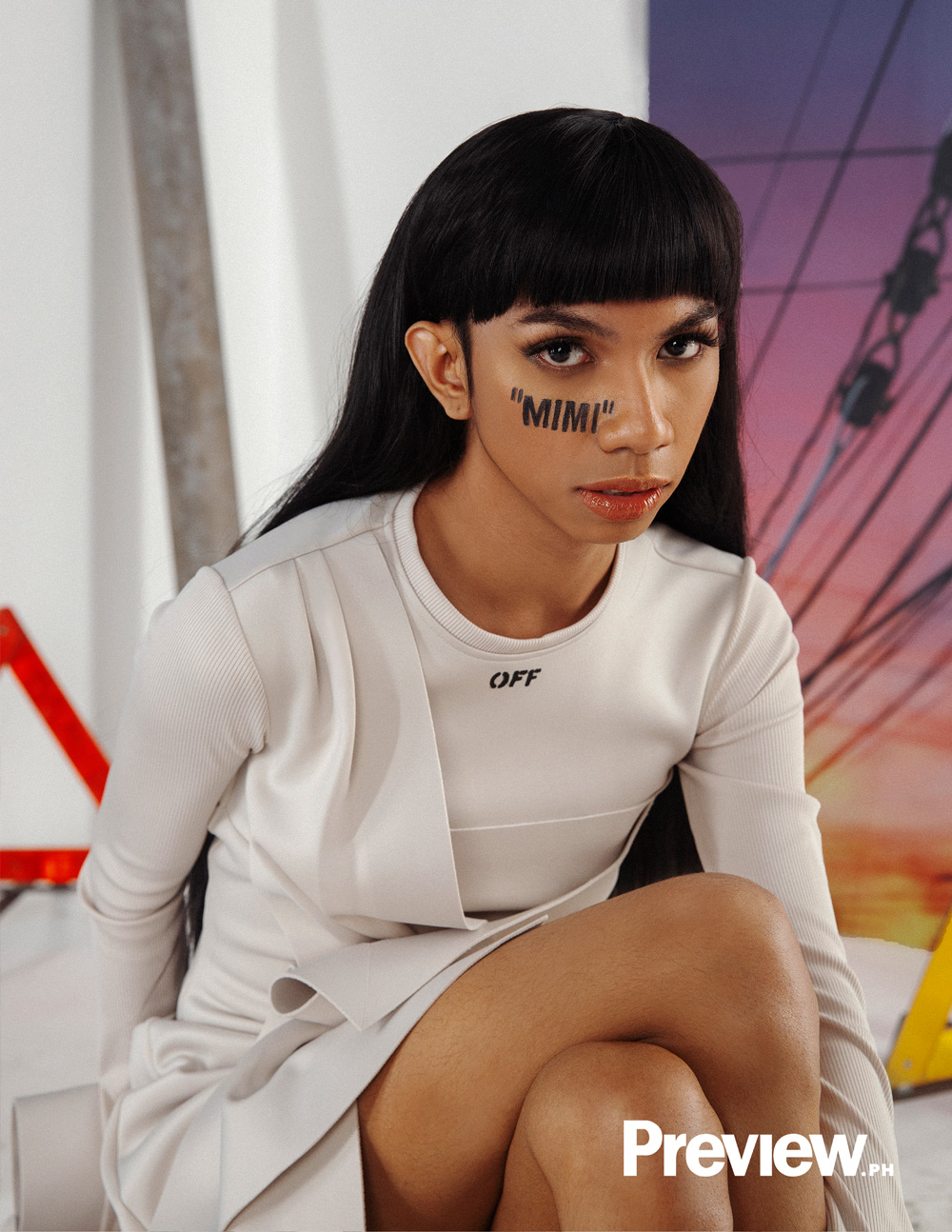 Produced by Maura Rodriguez
Photographed by Koji Arboleda
Art Direction by Bacs Arcebal
Fashion Direction and Styling by Yanna Lopez
Beauty Direction by Nicole Arcano
Makeup by Slo Lopez
Hair by Mycke Arcano using Lynelle Hair
Backdrop Image by Paulo Balmes II
Production Assistant Kristian Heruela
Nails by Nailandia
Words byFiel Estrella
[ArticleReco:{"articles":["24508″,"24493″,"24404″,"23875"]}]