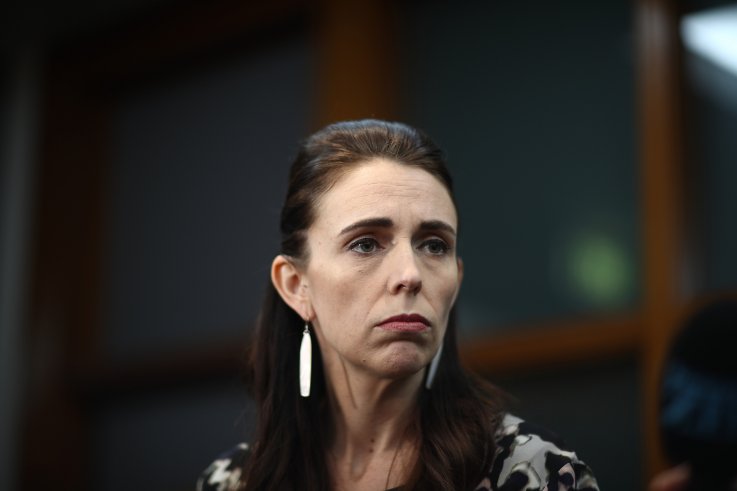 New Zealand Prime Minister Jacinda Ardern speaks to media prior to her address at the Climate Change and Business Conference on October 09, 2019 in Auckland, New Zealand. Her country's buyback program, enacted in the wake of a mass shooting in March, is showing moderate signs of success ahead of its December 20 deadline.
Phil Walter/Getty
A semi-automatic firearms buyback program enacted in New Zealand in the wake of a mass shooting targeting Muslims this past March is showing initial, if moderate, signs of success.
New Zealand Police Minister Stuart Nash announced this week that more than 32,000 prohibited weapons have been returned to the government since collections began in mid-July. Some estimates put the number of newly-banned military-style semi-automatic rifles in the country at up to 175,000.
This would suggest a compliance rate, so far, as low as 18 percent, 16 weeks into the buyback program. With seven weeks left to go until the amnesty period ends, if the current rate of return holds, the New Zealand government is on track to collect around 50,000 prohibited weapons pursuant to the buyback. That would impute a final compliance rate of around 29 percent, at the lower end, which would represent a modest but tangible success for policymakers.
"Owning a firearm is a privilege not a right," New Zealand Prime Minister Jacinda Ardern said in September as the country's parliament considered new gun control laws. "We absolutely recognize there is a legitimate need in our communities to be able to access guns, particularly our rural community, but what these changes do is recognize that actually there's a real responsibility that comes with gun ownership."
The government has established a fund worth more than NZD $20 million to repurchase newly-banned weapons at 25 percent to 95 percent of the price of a new weapon, depending on each firearm's condition.
The amnesty period ends on December 20, at which point it becomes illegal to possess certain military-style rifles. Violators could face five years in prison.
"Since the first firearms collection event on Saturday 13 July in Christchurch I have been full of praise for those law-abiding firearms owners who are doing the right thing and for Police who have worked hard to make the process easy to follow," Nash said in a press release. "Since that first collection more than 19,000 people have walked out the door with more than $62 million in payments. There have been almost 350 collection events, some held publicly and some held privately to suit gun clubs and hunting groups."
New Zealand's estimated measure of success compares unfavorably to a similar program enacted in nearby Australia in 1996 and 1997. A well-cited review of that program reported a final compliance rate of anywhere from 40 percent to 80 percent.
However, New Zealand's collection thus far still represents meaningful gains, especially when compared to how the U.S. has fared when trying to regulate assault weapons.
When analogous programs have been proposed in U.S. states, results have often been far less encouraging. New York passed the landmark SAFE Act in 2013, which required gun owners to register assault weapons as part of the state's newly-expanded definition for those types of military-style rifles. One estimate put the registration rate at around 4 percent.
A majority of the American public largely supports banning assault weapons. Some polling suggests a majority of Americans also support buyback programs, even mandatory ones. However, this support, in theory, may not hold against how these programs are designed to work in practice.
Former Texas Congressman Beto O'Rourke, the most outspoken about guns on the 2020 presidential campaign trail, recently folded his bid after it failed to take off following a reboot focused on gun control. O'Rourke had stirred significant controversy around a mandatory buyback proposal, at one point appearing to suggest that police officers could go door to door to ensure compliance, though a campaign spokesperson at the time denied that was his intent.