Nearly half of Premier League action is inactive, lost to time-wasting, VAR deliberations and other pauses in the game – and the issue is getting worse.
On average, 'in-play action' only comprises 55.9 per cent of matches this season – the lowest in 11 years since records began – and has been on an incremental slide in eight of those campaigns.
The advent of video assistant referees (VAR) did not change the downward trajectory, and there have been above-average declines for in-play action over the past two seasons – with the ratio trending towards the halfway mark.
Stoppage-time has hit an all-time high this term, currently averaging at around eight minutes across both halves – which helps mitigate delays caused by VAR reviews and the new five-substitution rule.
The 'multiball' system was also introduced this season to maintain in-play momentum. However, in-play action has slipped to the lowest ratio ever recorded at under 55 minutes and the time-wasting issue has been a frequent flashpoint.
What about across Europe?
Is time-wasting an isolated issue in the Premier League? Not at all. In fact, the issue plagues leagues across Europe – with the English top-flight actually ranking behind only the Eredivisie (59.1 per cent) and Ligue 1 (57.4 per cent) for active game-time.
The Scottish Premiership (52.3 per cent), Primeira Liga (54 per cent) and La Liga (54.5 per cent) all sit at the other end of the scale.
Which fixtures and teams are most affected?
Crystal Palace's 2-1 win over Leeds provided the least amount of in-play activity this season with just 43 minutes and 46 seconds clocked – and the game had only one VAR review, for Palace striker Odsonne Edouard's equaliser.
Leeds chief executive Angus Kinnear responded in his programme notes one week later, claiming the 43-per-cent share of in-play action was "an unacceptable spread for both players and spectators" – pledging to continue highlighting the issue with the Professional Game Match Officials Limited (PGMOL).
Indeed, Leeds manager Jesse Marsch had already complained about Aston Villa and Everton time-wasting against his side in previous weeks, while Kinnear had highlighted the issue in his programme notes ahead of facing Villa.
However, we analysed the Crystal Palace game and found there was little evidence of incidents which could be considered time-wasting from the Eagles. Leeds were as culpable for slow restarts and also committed 23 fouls during the game – the joint-most of any team in the Premier League this season.
Analysis from the Palace-Leeds game
Therefore, the table below highlights how these numbers should not just be read as teams being culprits for time-wasting, but also how teams can be victims of the dark arts. In some cases, both could apply.
The table below ranks every game in the Premier League this season by the lowest in-play ratios and reveals Leeds feature in the bottom three fixtures, while games involving Brentford comprise four of the bottom 10.
Digging deeper, the table below shows in-play averages for every fixture featuring a Premier League team this term and reveals how games involving Leeds, Newcastle and the Bees provide league-low active ratios.
At the other end of the scale, Manchester City's dominant, ball-playing style helps contribute to a league-topping average of 62.2 per cent, followed by Leicester, Tottenham and Liverpool.
The data reveals in-play activity is diminishing and suggests time-wasting is increasing – while teams appear to be actively using the dark arts in more calculated ways to protect points on the board – to see out a win or a draw – or to break sustained pressure when opponents are in the ascendency.
Still an age-old issue
Time-wasting is nothing new, of course. Sir Alex Ferguson directly addressed the issue after a 3-2 defeat to Tottenham in November 2012. "It is a flaw in the game that referees are responsible for time-keeping," said Ferguson.
"It is nearly 2013 and the referee still has control of that. They gave four minutes. It is an insult. It is ridiculous. It is denying you the proper chance to win the football match.
"There were six substitutions and the trainer came on. That is four minutes right away. The goalkeeper must have wasted two minutes. They took their time at every goal kick. That is obvious to everyone."
It is a flaw in the game that referees are still responsible for time keeping.
Which teams have been punished?
As part of the initiative to increase game-time, referees have been brandishing more yellow cards for blatant time-wasting this season – often to 'keepers for taking excessive time during goal kicks – which has resulted in a 25-per-cent increase for time-wasting cautions, rising from 0.18 per game to 0.23.
Aston Villa have clocked a league-high eight yellows for time-wasting offences so far, which is three more than the next top-cautioned side, Newcastle. Interestingly, both of these teams have among the lowest ratios for in-play activity, with Aston Villa ranking 17th on 54.7 per cent and Newcastle at 19th on 51.9 per cent.
Arteta clashes with Howe
Arsenal manager Mikel Arteta accused Newcastle of time-wasting after their 0-0 draw at the Emirates last week. Indeed, the Magpies have recorded the second-lowest average for in-play action this term at just 51.9 per cent. The game itself had 52 per cent of active play.
Howe responded: "I'm all for the people who go to matches getting value for money and getting to see the ball in play.
"I'm a big advocate of that and would back that and support that because you don't want to see the ball out of play continually. Certainly that wasn't our intention against Arsenal.
"There's certain times of the game when you have to manage situations depending on where the game is going and where the momentum is. You have to be street-wise and smart and find a way to get a positive result for your team.
"On the other side of that I think we've been very proactive and tried to keep the ball in play in the vast majority of games.
"I'm not a big fan of the huge injury times at the end of games. I think players have roughly a 90-minute target in their head and then you can add all sorts of silly numbers on it.
"I do think it's up to referees to control the speed of games better and to maybe, for obvious time-wasting, book players to speed it up."
The World Cup acid test?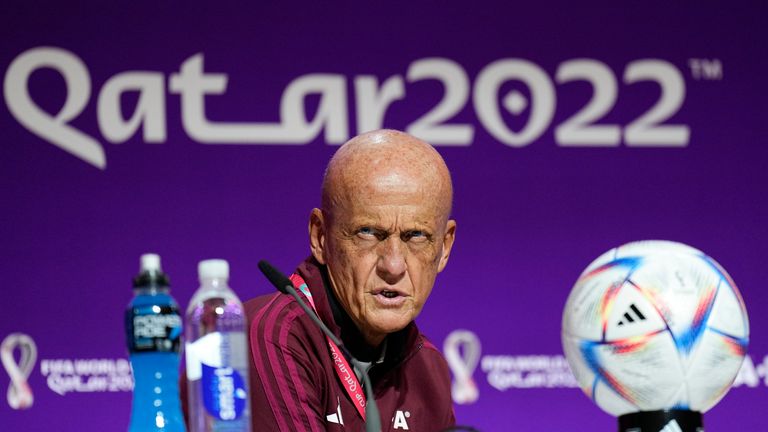 We've asked referees to calculate stoppage-time more accurately.
The World Cup in Qatar produced an average of 10 minutes and 23 seconds of stoppage-time across both halves, excluding extra-time. On average, each initial 90 minutes featured 58 minutes and four seconds of in-play action – more than any of Europe's top leagues this season.
Speaking ahead of the tournament, FIFA referees committee chairman Pierluigi Collina said: "People want to watch football, more football. And we have been asked to do something about it for years.
"The matter of matches lasting for even less than 50 minutes of active time is something that comes from quite a long time ago.
"So, already, in Russia (2018 World Cup), we asked referees to calculate the stoppage-time more accurately to be given at the end of each half."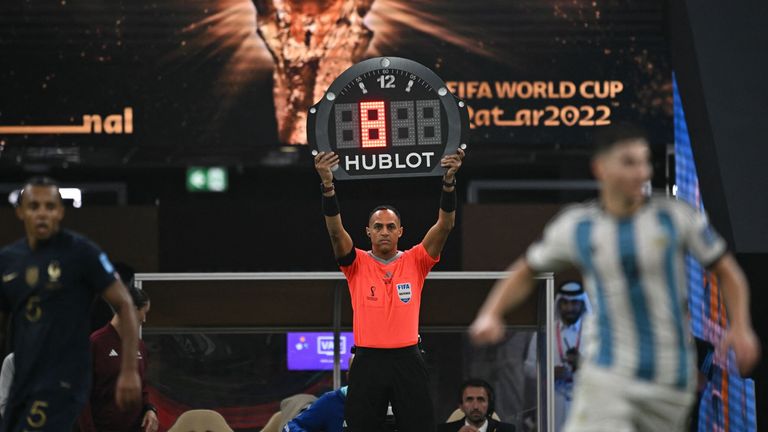 England's opening game against Iran clocked a tournament-topping 23 minutes of stoppage-time. Speaking on the matter, Collina said: "We had the [Iran] goalkeeper, who got injured and was treated for about 11 minutes in total, and an England player with an injury that lasted three minutes. So, 14 of the 23 minutes were for those two specific injuries.
"And it must be remembered that eight goals were scored, with their celebrations, plus one delay to restart of play due to a VAR check and one on-field review. There were a lot of incidents that caused such a large amount of added time."
But did these measures reduce time-wasting? The graphic below suggests they did, revealing how the average amount of added time reduced by 25 per cent over the course of the tournament – suggesting players increasingly wasted less time, as a result of knowing time would be added on regardless.
Hence, there is growing clamour for similar measures to be implemented at domestic level – to clamp down on the dark arts and reverse a declining proportion of active game-time.
Webb: 60-minute in-play trials should take place
Sky Sports reporter Geoff Shreeves sat down with PGMOL chief refereeing officer Howard Webb to discuss the time-wasting issue and potential solutions. Here's what they had to say…
GS: We saw during the World Cup that the extra time was hugely enjoyed by the fans and viewers. It offers a new dynamic in terms of what to do and how to manage the situation. Would you like to see a scenario where timekeeping is taken out of the hands of the referee with an independent timekeeper, and we play a minimum of 60 minutes of football?
HW: Apart from VAR, it's the one area where I've heard the most noise in the current game, globally.
GS: If it is something you've heard the most noise about do you think it is something, you actively need to address?
HW: I think to go to something as sweeping as a 60-minute game there would need to be trials taking place. You have to look at all of the ramifications, the positive impacts and the potential negative consequences of that because it is such a significant change in the game.
But I hope those trials take place. I hope we can see whether it would work because we'll never really advance the conversation unless that sort of things happens.
Effective match time is something important and there is a lot of conversation around it. Some of that falls on the shoulders of the referee, of course, to ensure that games restart quickly and to ensure that delay tactics and time-wasting tactics are dealt with robustly.
We've seen the way FIFA dealt with it in the World Cup with the additional time that was put on the board, which was unusual. It was different to what we've seen before in the top five European leagues, traditionally.
I think we've seen a slow and steady increase in that time that is shown on the board in the Premier League and in other leagues, including what I saw in MLS [Major League Soccer], as we've tried to capture more of those occasions where the game is not live.
[As of round 16 of the Premier League this season, we had] seen an increase in the effective match time and we've seen more cautions for delaying tactics.
So, things are happening. Not quite exactly in-line with what the officials were told to do at the World Cup. What we saw there was maybe more allowance for goalscoring celebrations that were maybe allowed to go on for a bit longer, just from my own personal observations of what I saw in that tournament.
I think it is right and proper that we continue [officiated as we did before the World Cup break] and then have conversations at the end of the season about whether we are doing enough, whether we can do more and how robust our interventions need to be about delay tactics.
But I'm a big advocate of ensuring that we empower referees to take action against players who delay restarts, and those who immediately stand in front of free-kicks to stop them from being taken.
Sky Sports contacted the Premier League and PGMOL for comment.