For all the good work he has done at Manchester United, Erik ten Hag wanted a statement victory to show he really is the real deal.
Beating Barcelona was all that mattered to Ten Hag this midweek. Sunday's Carabao Cup final against Newcastle could wait.

Sunday 26th February 3:00pm


Kick off 4:30pm

It may have only been the Europa League and Barcelona may not be the force of old, but the manner of the comeback win and the fact that Barcelona will always be Barcelona and they are top of La Liga means Ten Hag is well within his rights to regard it as the most important win of his nine months in charge at Old Trafford.
Up until Thursday night, you could argue that the two most significant moments of Ten Hag's time at United had both been off the pitch. Last August he made his players run eight miles the day after they had lost 4-0 at Brentford. Brentford had run eight miles more than the United players in 90 minutes and Ten Hag wanted to make sure that never happened again.
Joining the players on the run was his real masterstroke though. He wanted to show the players that he was willing to give as much as he wanted them to give for the cause and he was willing to accept his share of the blame for what had gone wrong at Brentford.
The way Ten Hag reacted to that defeat was welcomed and applauded by United supporters and so was his handling of Cristiano Ronaldo. His eventual victory in the power play between manager and superstar was another significant moment which marked him out as a man of real substance and authority.
Ten Hag made it clear to his superiors that there was no way back for Ronaldo after he sat down and poured his heart out to Piers Morgan in an unauthorised, jaw-dropping interview in November. United's owners backed Ten Hag 100 per cent, and after they had consulted lawyers Ronaldo's £500,000-a-week contracted was terminated by "mutual agreement".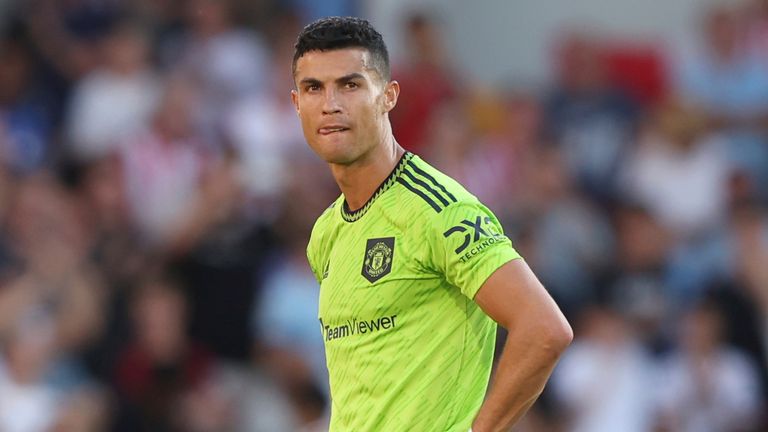 Ronaldo moved to Saudi Arabia – via the World Cup in Qatar – and United have not looked back. Since the season resumed after the World Cup, United have lost only once in 18 games and they are the only team in a top European league who still have a chance of winning four trophies this season.
Ten Hag's first opportunity to win a trophy as United manager is in the EFL Cup final against Newcastle United at Wembley on Sunday. As you would expect, United have been doing their homework on Newcastle in the short time available between games, and Ten Hag has been doing his own personal homework on what a manager is expected to do before and after a big Wembley final.
Despite the games coming thick and fast, there is a sense at United that the players are in peak physical condition as they enter the most crucial part of the season.
Looking back at the stats from United's 3-0 win against Leicester City last Sunday, what struck Ten Hag and his coaching team was the fact that their five second-half substitutes had run and worked with the same intensity as the players in the starting XI.
That showed them there were no egos any more at United. No one was sulking because they had not started. They were all in this together. Just like they had been when they ran eight miles on a hot Sunday morning last August.
Watch Man Utd vs Newcastle on Sunday, live on Sky Sports Football from 3pm; kick-off 4.30pm